Every week Tech Charts Global Equity Markets report features some of the well-defined, mature classical chart patterns under a lengthy watchlist and the chart pattern breakout signals that took place during that week. Global Equity Markets report covers single stocks from developed, emerging and frontier markets, ETF's, select commodities, cryptocurrencies and global equity indices. Below chart is from the watchlist section of the weekly report. It is featuring a trading opportunity on the price chart of New Oriental Education & Technology Group Inc.
NEW ORIENTAL EDUCATION & TECHNOLOGY GROUP INC (EDU.N)
New Oriental Education & Technology Group Inc is a China-based company mainly engaged in delivering comprehensive educational programs, services and products to students through its nationwide physical network of schools, learning centers and bookstores, as well as pure-play online learning platforms. The stock is listed on the New York Stock Exchange. Price chart formed a 4 month-long head and shoulder continuation with the horizontal boundary acting as strong resistance at 29.70 levels. The horizontal boundary was tested several times over the course of the chart pattern. A daily close above 30.60 levels will confirm the breakout from the 4 month-long head and shoulder continuation with the possible chart pattern price target of 39.40 levels.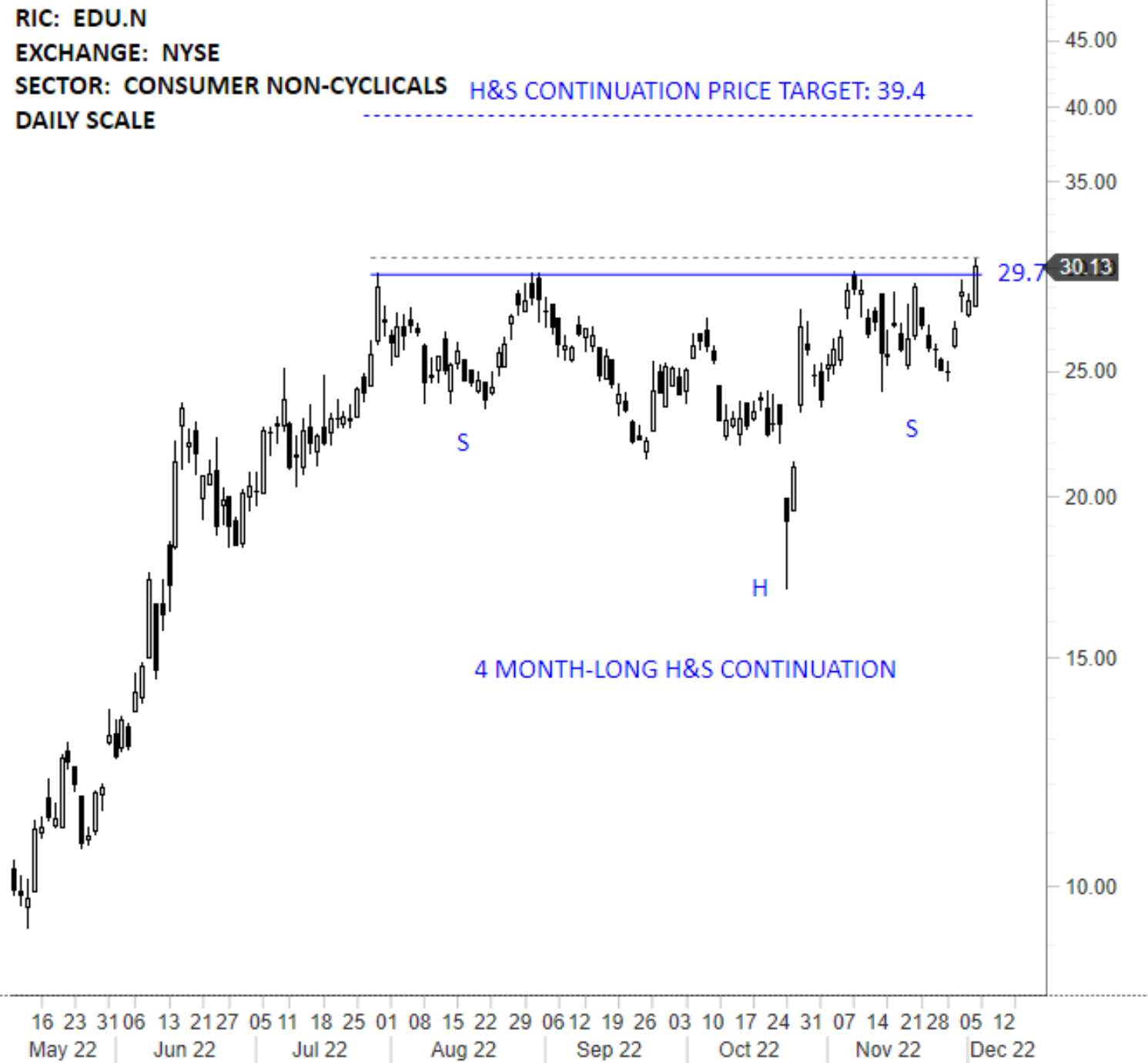 I wrote a blog post on the widely discussed and debated H&S continuation chart pattern. You can continue reading and also test your knowledge with the remaining interactive part of this week's Blog post.
One of the common discussions start with the validity of such pattern… There is a common misconception regarding the continuation type H&S pattern.
Yes, it exists and it is a reliable chart pattern.
Let's dive into this frequently identified chart pattern…
Head and shoulder chart pattern can form as a continuation on price charts. In uptrends, a H&S continuation will be similar to a H&S bottom and in downtrends it will resemble an inverse H&S. The implications and interpretations of continuation H&S are usually the same with reversals. Price objectives can be derived in the same way as it is calculated on a reversal chart pattern.
Head and shoulder continuation is one of my favorite chart pattern. A head and shoulder continuation that forms in an uptrend, will usually breakout to new highs once the chart pattern is completed. Breakout to all-time highs from bullish continuation chart patterns are usually reliable and powerful.
A head and shoulder continuation that forms in a downtrend will usually take out the minor lows and move in the path of least resistance. Price that is already in a downtrend is likely to accelerate on the downside (sometimes in a sharp fall) as it breaks down a well-defined horizontal support.
Edwards and Magee in their book Technical Analysis of Stock Trends identified the H&S continuation back in 1930s. The pattern is pretty much the same in today's price charts. Here is the pattern Edwards & Magee featured to discuss the continuation type H&S.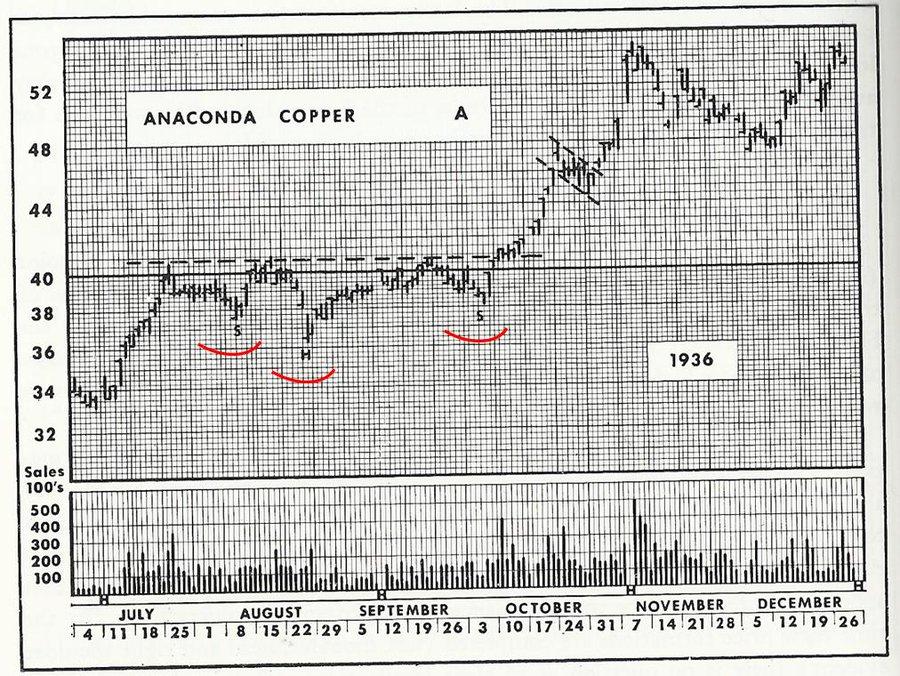 As you can see in this bullish setup there is a prior uptrend followed by the S-H-S swings of the pattern which eventually breaks upward by price clearing the horizontal neckline. I give more importance to patterns that have well-defined horizontal boundaries. In this case my focus is on the H&S continuations that have horizontal necklines.
Few weeks ago I have featured a text-book H&S continuation chart pattern on an equity (Galata Wind Energy) from Turkish stock exchange. The similarities between the recent H&S continuation and the one that Edwards and Magee used from 1930s is astonishing. Here is the one that I identified after studying classical charting principles.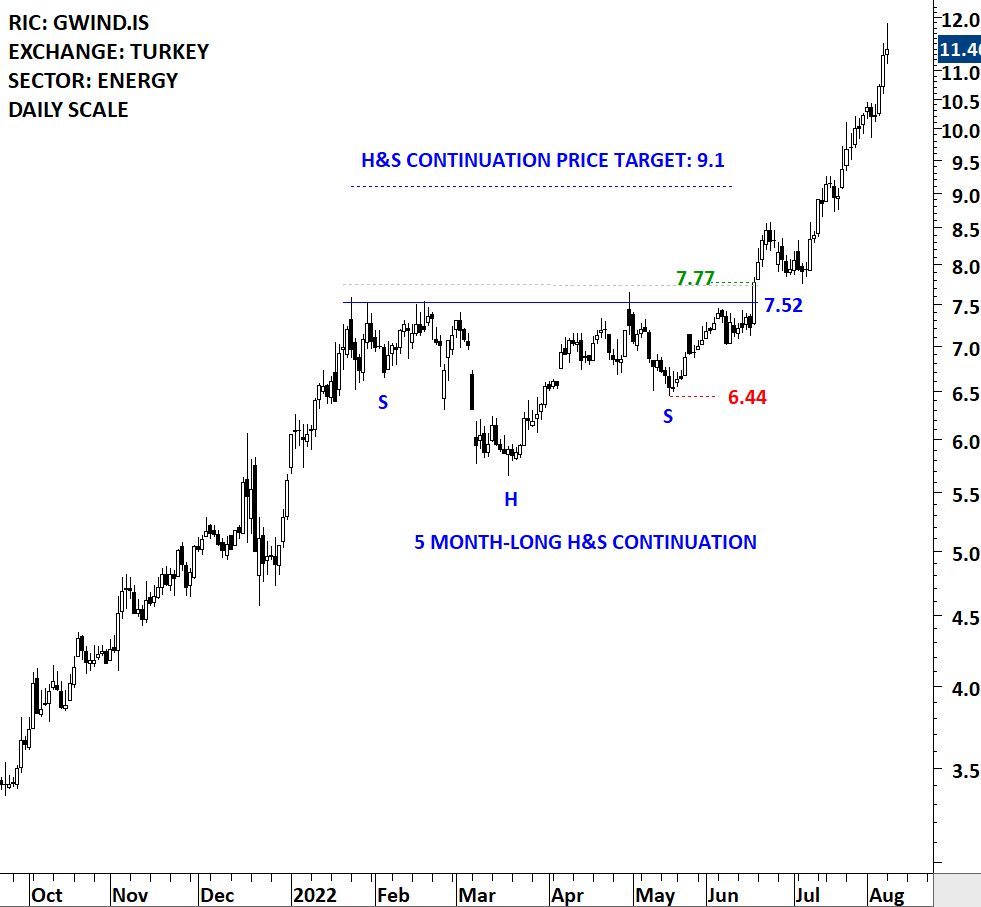 This was a text-book setup that not only cleared the horizontal neckline but also broke out to all-time highs. Following the breakout the stock pulled back to the neckline and the pullback was followed by a continuation higher, exceeding the chart pattern price objective. Breakout to all-time highs is the path of least resistance. It is considered to be the uncharted territory where the stock faces limited supply/resistance.
Are you ready to identify some H&S continuation patterns yourself?
Let's dive into these interactive charts. I hope you will enjoy this format.
Click on the charts that you think a H&S continuation pattern can be identified. Remember, these are all patterns with well-defined horizontal boundaries.
Here is how I labelled those charts. The difference between a H&S continuation and a H&S bottom is the trend prior to the pattern. With the bullish continuation type you will see an uptrend prior to the H&S pattern. Whereas with the H&S bottom, the pattern will form after a steady downtrend.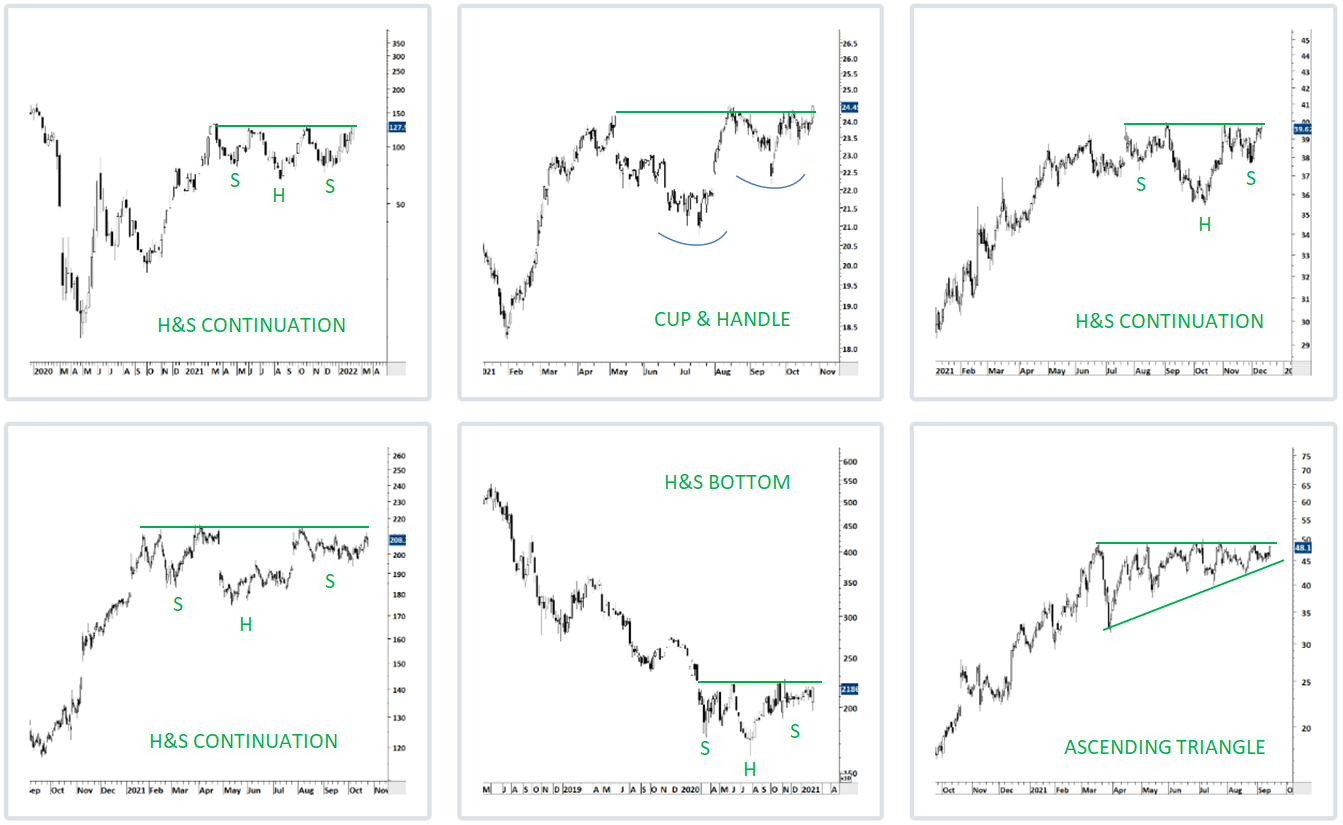 Are you ready for another visual exercise?
The chart below is the weekly scale price chart of Persol Holdings from Tokyo Stock Exchange. There are 2 H&S continuation patterns. Can you identify those?
PERSOL HOLDINGS (2181.T)
Weekly charts will help you better identify the lengthy consolidations. Given that we are always looking for horizontal boundaries, our eyes should focus on those technical levels that has been tested several times. I have identified 2 H&S continuation chart patterns that were preceded by upward swings.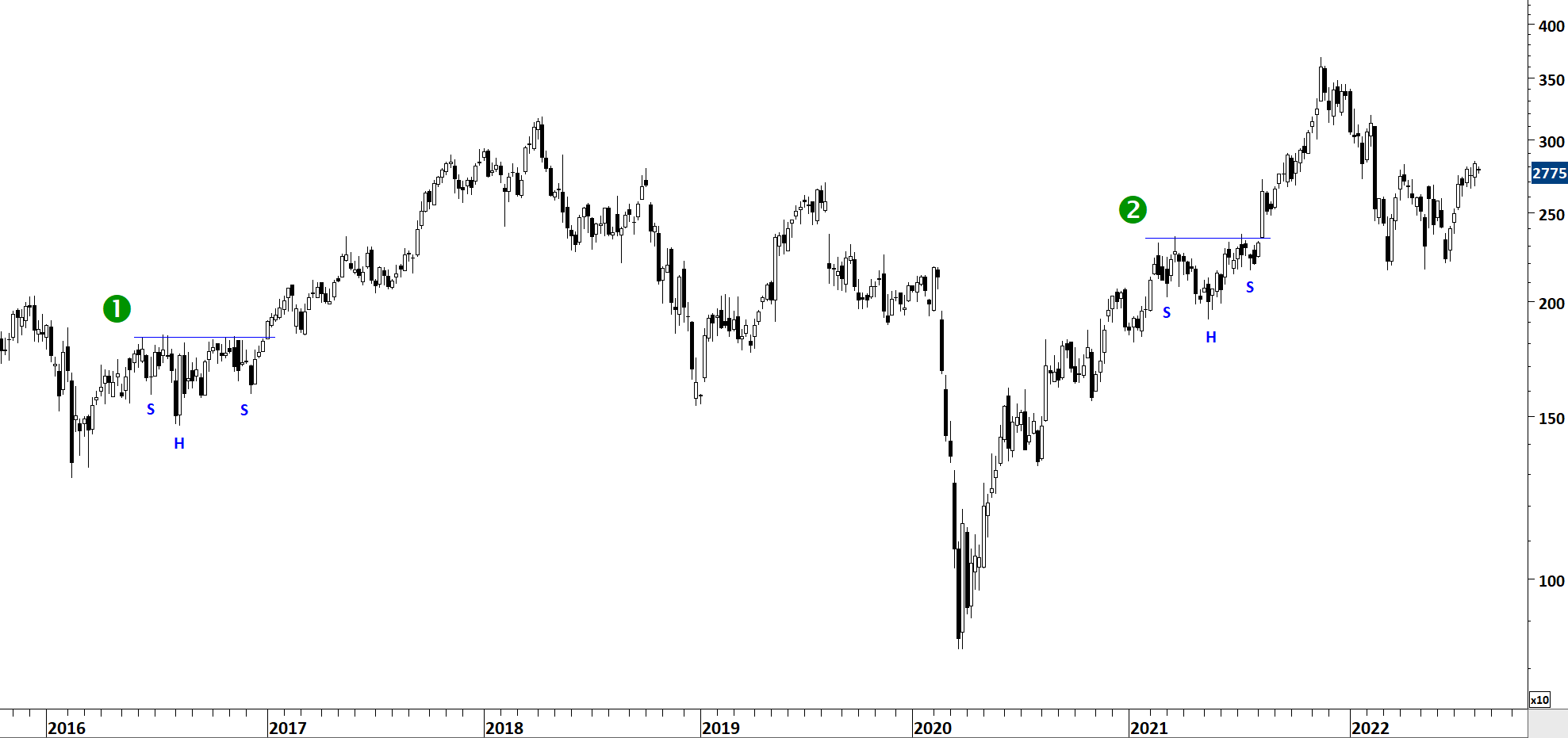 The first one with a closer look… A 6 month-long H&S continuation chart pattern that was completed on the upside and was followed by a text-book pullback to the pattern boundary similar to the one we have seen on Galata Wind Energy (GWIND.IS). Following the pullback the stock resumed its uptrend.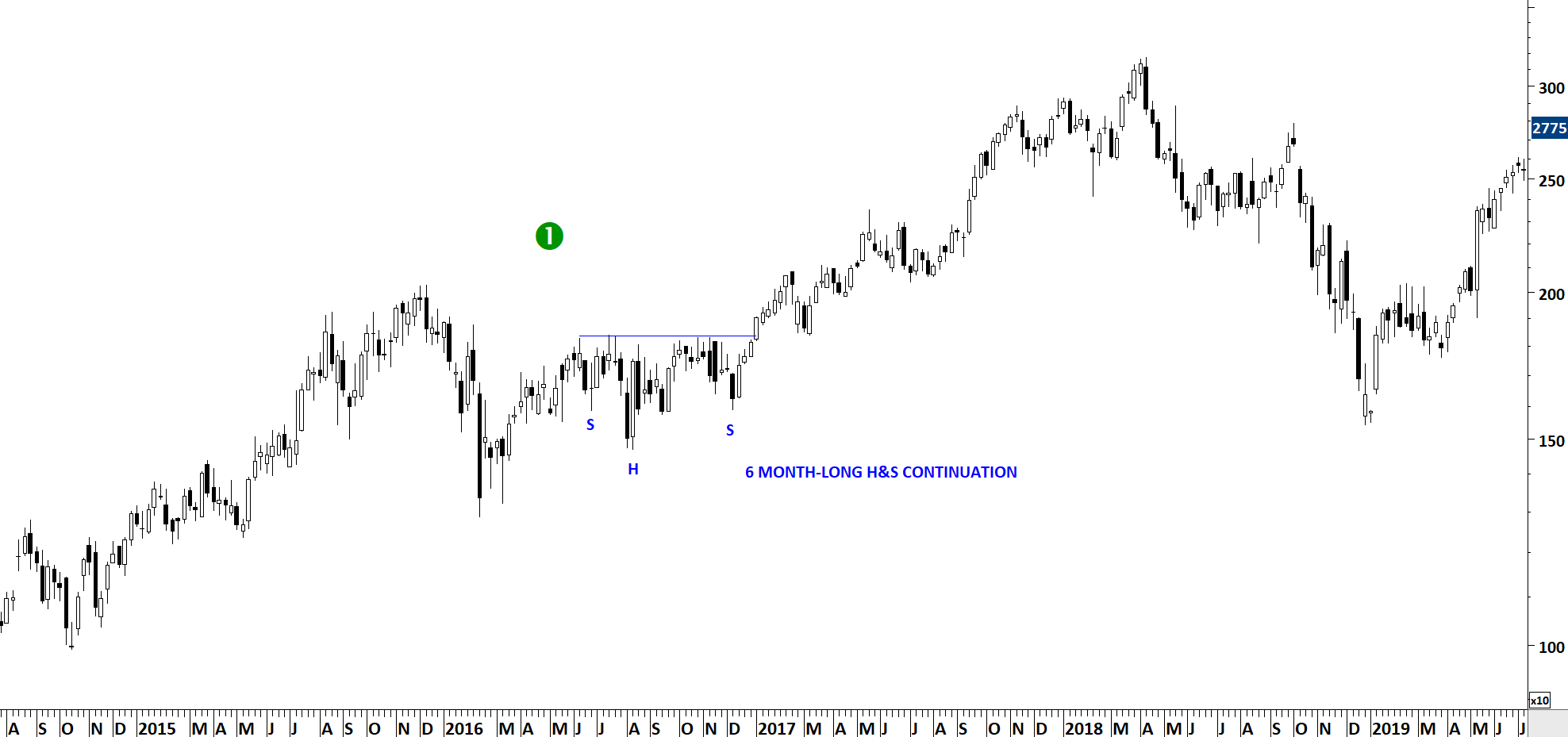 The second one was a similar duration H&S continuation this time not followed by a deep pullback. It is important to note that stocks that breakout and rally without much retracement, usually exceed chart pattern price objective. If you find yourself riding one of those breakouts, it is best to let some part of your position to capture the existing strong uptrend. You can take partial profits and ride the rest past the price target.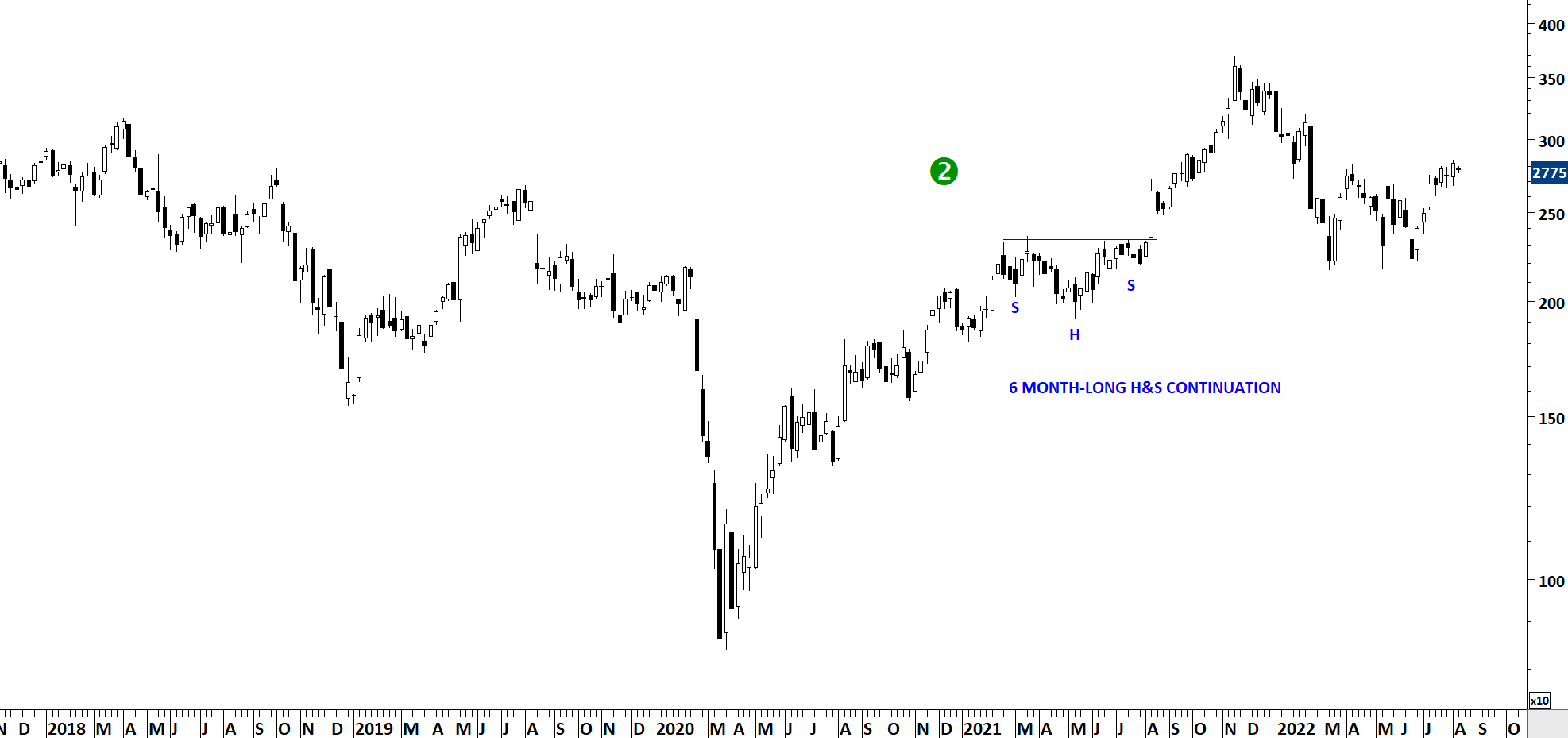 Let's have a closer look at the daily scale price chart where we identified the second H&S continuation chart pattern. A clean horizontal boundary… chart pattern forming above the 200-day average, confirming the uptrend… Strong daily breakout with a long white candlestick that closes at the highs of the day…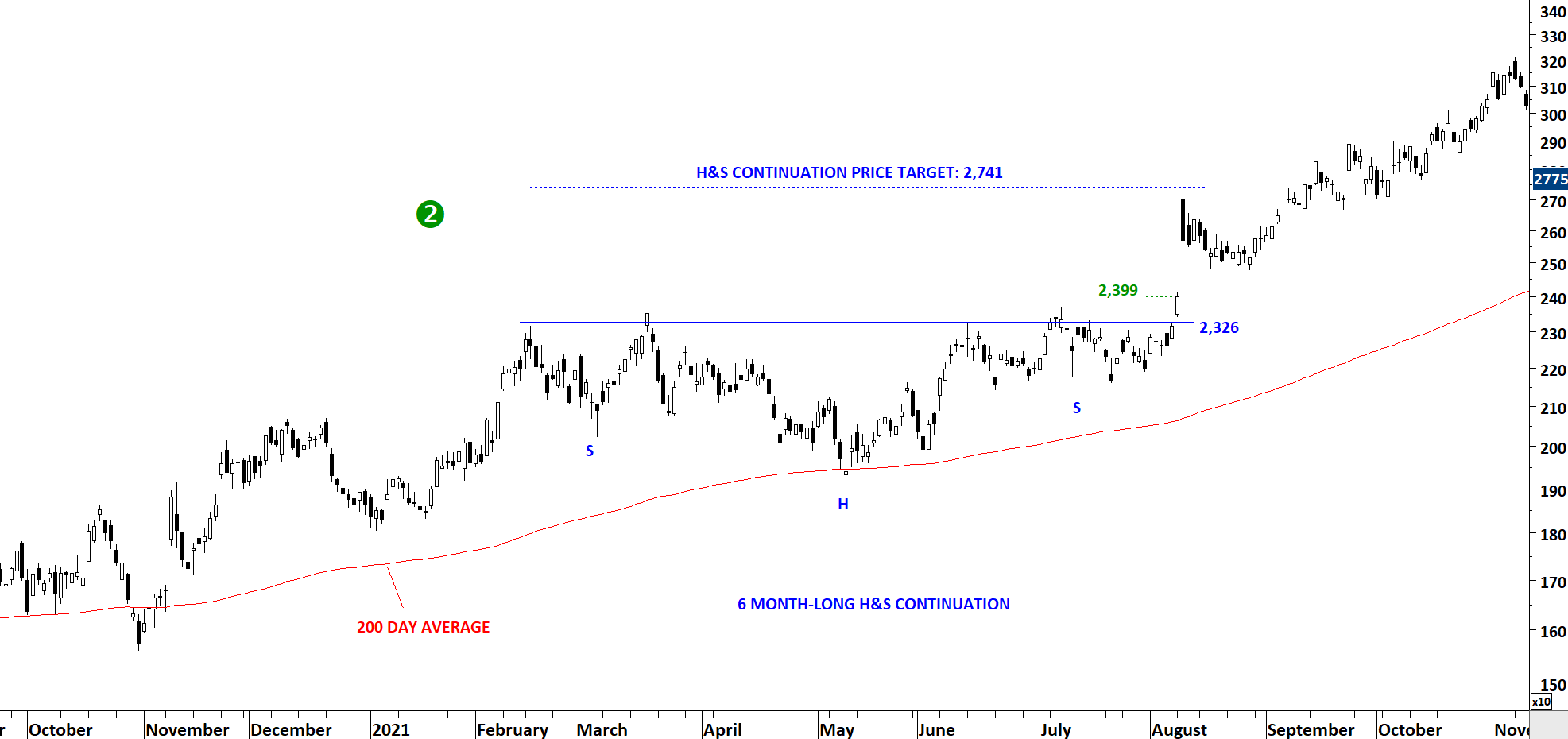 Did you like the interactive elements? Let me know what you think and we will figure out better ways to improve your learning experience.
---
Tech Charts Membership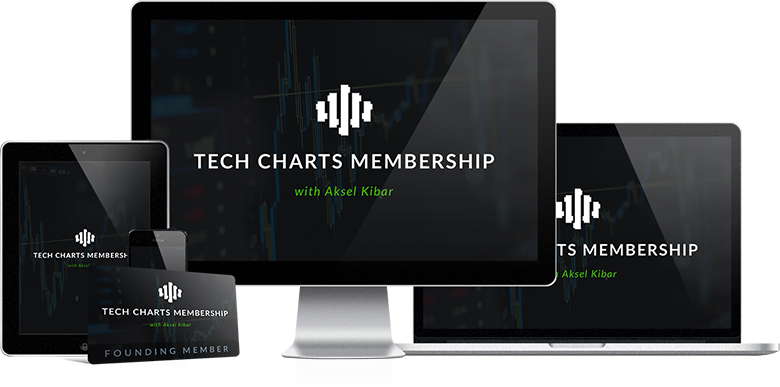 By becoming a Premium Member, you'll be able to improve your knowledge of the principles of classical charting.
With this knowledge, you can merge them with your investing system. In fact, some investors use my analyses to modify their existing style to invest more efficiently and successfully.
Get Access Now

As a Premium Member of Aksel Kibar's Tech Charts,
You will receive:
Global Equities Report. Delivered weekly.

Classical charting principles. Learn patterns and setups.

Actionable information. Worldwide indices and stocks of interest.

Risk management advice. The important trading points of each chart.

Information on breakout opportunities. Identify the ones you want to take action on.

Video tutorials. How patterns form and why they succeed or fail.

Watch list alerts. As they become available so you can act quickly.

Breakout alerts. Usually once a week.

Access to everything (now and as it becomes available)

o Reports
o Videos and video series

Multi-part webinar course. You learn the 8 most common charting principles.

Webinars. Actionable and timely advice on breaking out chart patterns.
For your convenience your membership auto renews each year.
Get Access Now

https://blog.techcharts.net/wp-content/uploads/2022/12/HS-CONT-IMAGE.png
402
954
Aksel Kibar
https://blog.techcharts.net/wp-content/uploads/2017/05/Tech-Charts-logo-FINAL-CLEAN-340w.png
Aksel Kibar
2022-12-04 08:01:38
2022-12-04 08:01:38
NEW ORIENTAL EDUCATION & TECHNOLOGY GROUP INC (EDU.N)