Every week Tech Charts Global Equity Markets report features some of the well-defined, mature classical chart patterns (bullish & bearish) under a lengthy watchlist and the chart pattern breakout signals that took place during that week. Global Equity Markets report covers single stocks from developed and emerging markets, ETF's and global equity indices. The main focus of the weekly report is to bring member's attention some of the best examples of classical charting and chart patterns that are likely to resolve in a directional move. This blog post reviews one of several important technical developments in the Global Equity Markets.
ISHARES MSCI ALL COUNTRY WORLD INDEX ETF (ACWI.O)
Last week's price action did some technical damage on the charts. MSCI ALL COUNTRY WORLD INDEX ETF, a benchmark for global equity market performance gave back three weeks of gains in one weekly bar. The discussion on the financial networks and social media was about buying the dip. The iShares MSCI All Country World Index ETF is listed on the Nasdaq Stock Exchange. 66.3 is the lower boundary of the 7 month-long trend channel for the ACWI ETF. The index rebounded from the strong support once again. Failure to hold this support level can push the price to the next support at 65.5, which is the 17 month-long upward trendline. There is no clear chart pattern forming on the MSCI ACWI ETF that would suggest a top reversal. For those who are looking for a sell signal on the ACWI, the breakdown of the trend channels should give some guidance. In case of further weakness in the global equity markets ( i.e. a breakdown on the ACWI), the weekly Global Equity Markets report featured some of the well-defined bearish chart setups in the global equities and ETFs.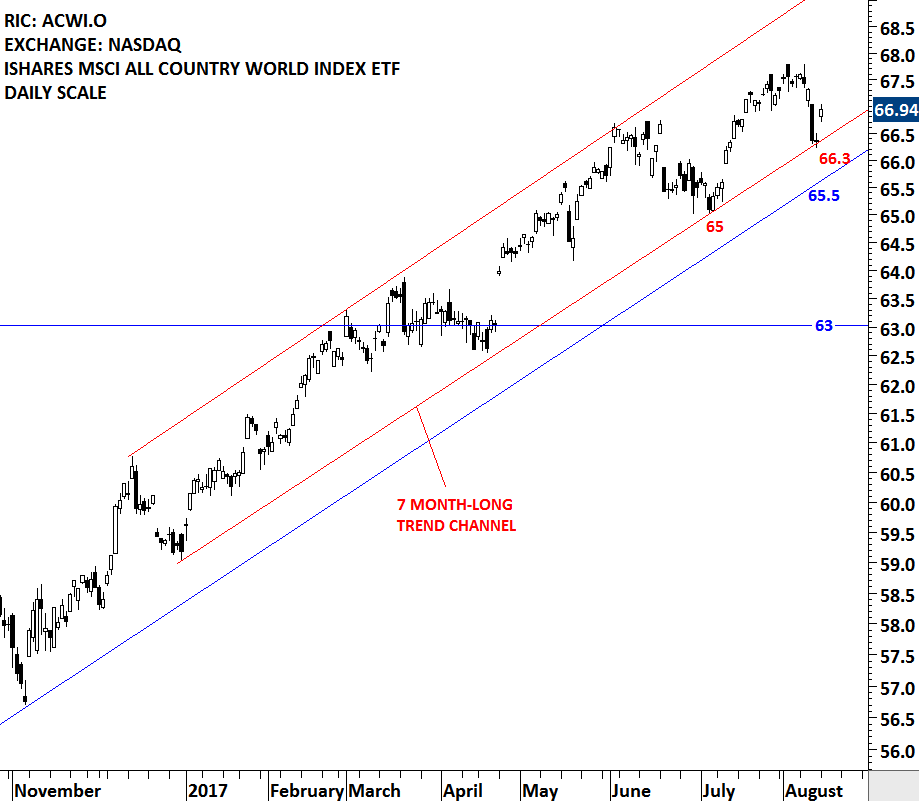 Read More
https://blog.techcharts.net/wp-content/uploads/2017/08/Aug-15-Featured-Image.png
642
963
Aksel Kibar
http://blog.techcharts.net/wp-content/uploads/2017/05/Tech-Charts-logo-FINAL-CLEAN-340w.png
Aksel Kibar
2017-08-15 10:00:41
2017-08-16 23:45:43
MSCI ALL COUNTRIES WORLD INDEX ETF