Every week Tech Charts Global Equity Markets report features some of the well-defined, mature classical chart patterns under a lengthy watchlist and the chart pattern breakout signals that took place during that week. Global Equity Markets report covers single stocks from developed and emerging markets, ETF's and global equity indices. The report starts with a review section that highlights the important chart developments on global equity benchmarks. This blog post features a review on the iShares MSCI All Country World Index ETF that was featured in the latest Global Equity Markets report. Below you will also find a long-term chart on the iShares MSCI Emerging Markets Index.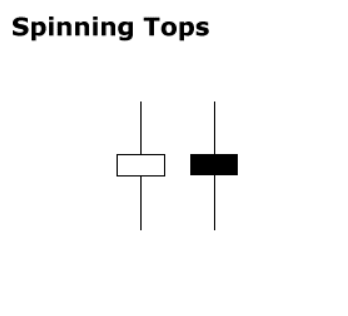 Indecision. Jury is still out. This week's price action is best explained with the help of candlestick patterns definitions. Spinning top is a candlestick with a long upper shadow, long lower shadow, and small real body. One long shadow represents a reversal of sorts; spinning tops represent indecision. The small real body (whether hollow or filled) shows little movement from open to close, and the shadows indicate that both bulls and bears were active during the session. Even though the week opened and closed with little change, prices moved significantly higher and lower in the meantime. Neither buyers nor sellers could gain the upper hand and the result was a standoff. After a long advance or long white candlestick, a spinning top indicates weakness among the bulls and a potential change or interruption in trend. After a long decline (I think this is what we experienced over the past 3 weeks) or long black candlestick, a spinning top indicates weakness among the bears and a potential change or interruption in trend.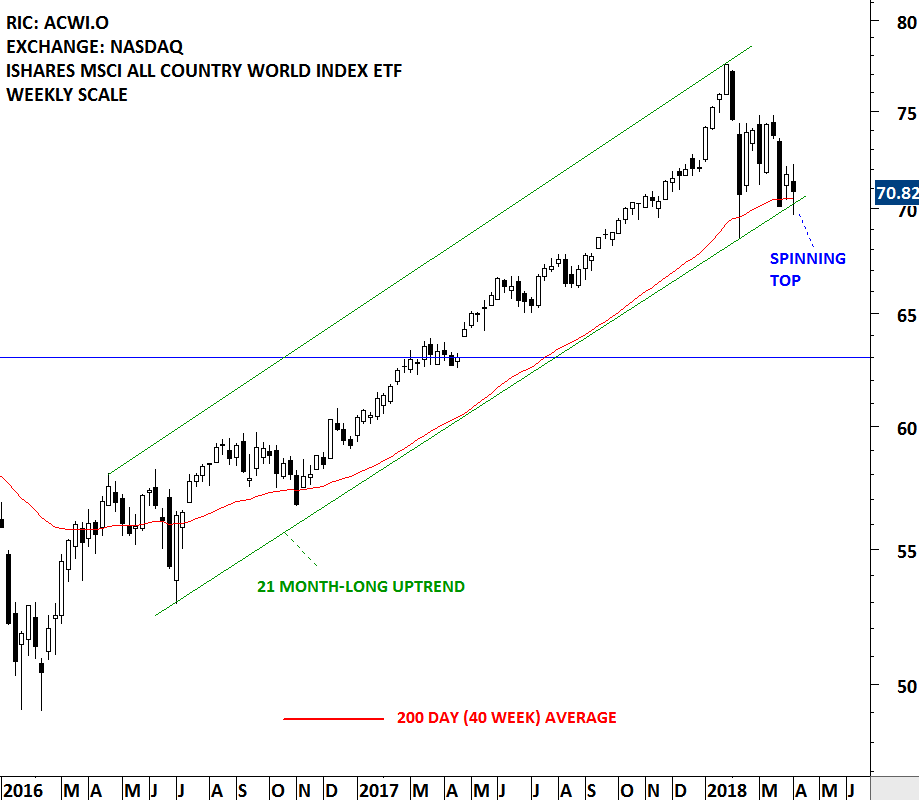 Last week's price action formed a bullish harami. Bullish harami is a long candlestick followed by a small body that is completely inside the range of the previous body. The first body represents the beginning of the price movement or harami formation. The small body marks a change or reversal in the opposite direction of the previous candlestick and represents the confirmation of the bullish harami, which can be in several formations. Bullish harami comes after a decline in price. While last week's price completed a bullish harami and suggested a possible reversal to the upside, this week the market printed an indecisive candlestick as "spinning top".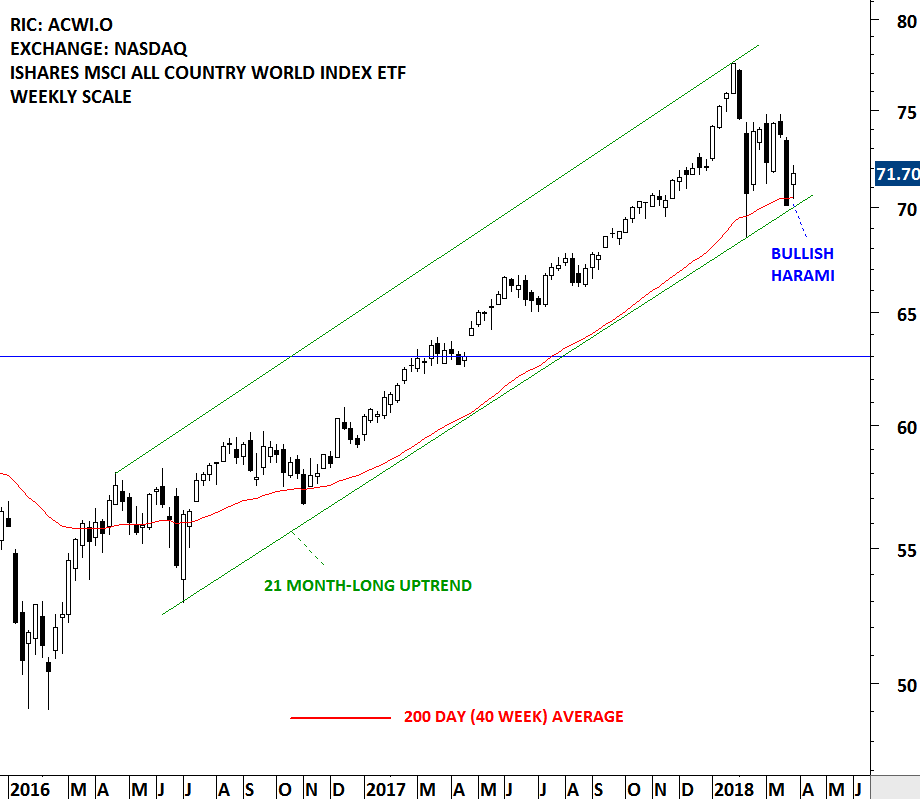 Both the iShares MSCI All Country World Index ETF and the iShares MSCI Emerging Markets ETF are holding above their respective long-term averages and the lower boundary of their multi-month long trend channels. Breakdown below those important technical levels will reverse the multi-year long uptrends and result in a larger scale correction. For the time being we can conclude that the uptrend is still intact.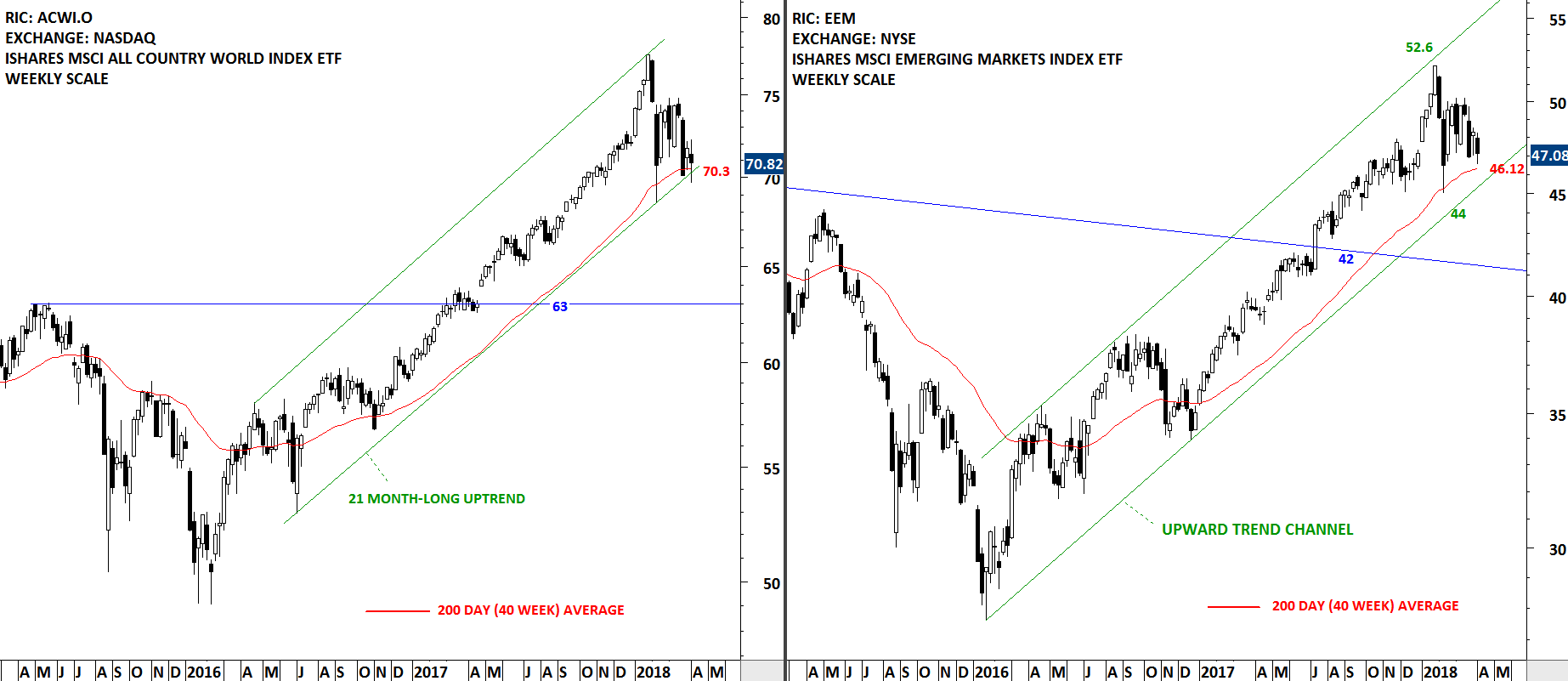 ---
Tech Charts Membership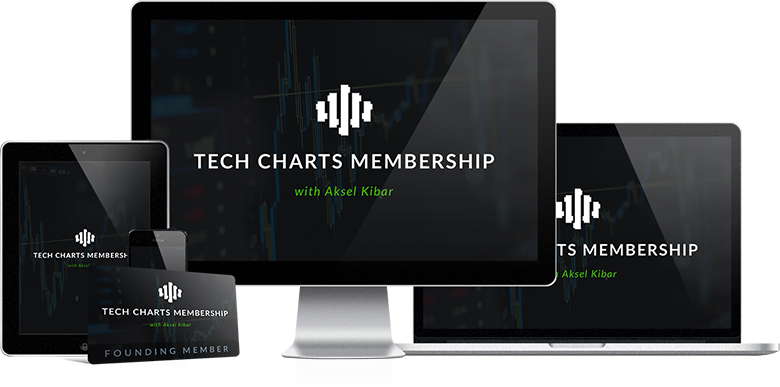 By becoming a Premium Member, you'll be able to improve your knowledge of the principles of classical charting.
With this knowledge, you can merge them with your investing system. In fact, some investors use my analyses to modify their existing style to invest more efficiently and successfully.
Get Access Now

As a Premium Member of Aksel Kibar's Tech Charts,
You will receive:
Global Equities Report. Delivered weekly.

Classical charting principles. Learn patterns and setups.

Actionable information. Worldwide indices and stocks of interest.

Risk management advice. The important trading points of each chart.

Information on breakout opportunities. Identify the ones you want to take action on.

Video tutorials. How patterns form and why they succeed or fail.

Watch list alerts. As they become available so you can act quickly.

Breakout alerts. Usually once a week.

Access to everything (now and as it becomes available)

o Reports
o Videos and video series

Multi-part webinar course. You learn the 8 most common charting principles.

Webinars. Actionable and timely advice on breaking out chart patterns.
For your convenience your membership auto renews each year.
Get Access Now

https://blog.techcharts.net/wp-content/uploads/2018/04/Apr-10-Featured-Image.png
637
960
Aksel Kibar
https://blog.techcharts.net/wp-content/uploads/2017/05/Tech-Charts-logo-FINAL-CLEAN-340w.png
Aksel Kibar
2018-04-10 11:19:59
2018-04-10 11:19:59
ISHARES MSCI ALL COUNTRY WORLD INDEX ETF